Create Uniforms & Merchandise For Your Brand
Step 1. Describe Your Brand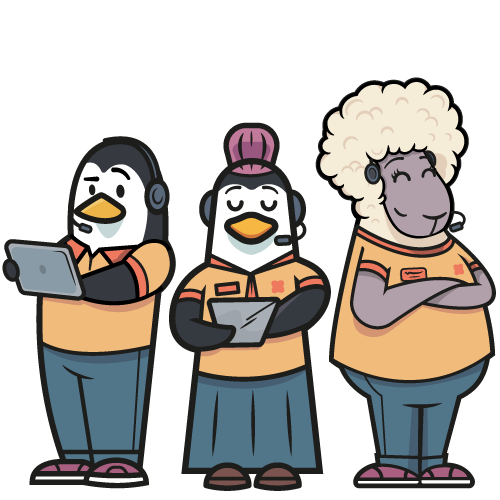 At this stage you need to make a decision as to whether:
You just need some basic uniforms or...

Whether you want to use them as part of a marketing strategy.
We've broken it down as follows:
If you've got the time we recommend reading the 'Strategic Version'. You may not need to work all of the steps right now but the information covered is worth tucking away in your brain for later.
The Minimal -Thought Version
For:
Those that want to make sure their uniforms & merchandise are aligned with their overall brand.
Usage:
At this level you want to have a clear idea of your brand to refer to as you step through the ordering process. This will make it quicker & easier to determine the right products & branding for you.
Procedure:
There's no need to get into brand personality types or spirit animals (but, if that is your thing, go for it!). All you really need to know for this purpose is:
What is your brand?

Who is your ideal customer?

What is your ideal transaction with this customer?
What is your brand?
Industry & area of industry?

Product/service offering?

Company values?

Company personality?
Who is your ideal customer?
This includes demographic factors (ie. age, gender, income, etc.) & also values, needs, interests, wants, etc.
What is your ideal transaction with this customer?
You've found the perfect partner. What do you want to happen next? What's the conversation, what's the activity & what's the outcome?
Next Steps:
You've now finished step 1 in our simple 3 step journey to create uniforms & merchandise that attracts customers. You understand the how & why of finding the look for your Brand. Well done you!
The next step is selecting the right products to achieve that look within your timeframe & budget, A.K.A. Step 2 : The Buying Process Explained (or I suppose you could skip ahead to Step 3 : The Branding Process Explained.)
For:
Those that want to use their uniforms & merch strategically to help their business stand out & attract more customers.
Usage:
At this level we're going to use uniforms & merch to give us greater & more nuanced control over how customers/clients etc. view & react to your brand.
Procedure:
A customers' perception & reaction to your brand is paramount - it determines whether or not they will engage with you & recommend you to others. By 'customer perception & reaction', we mean what a customer thinks, feels & does in response to your brand.
Purposefully guiding this perception & reaction is what good marketing is all about.
But before we start to use uniforms & merch to market your brand, let's first review a few marketing basics…
Marketing 101
The term "brand" is often abused & misused so we'll start with this:
A brand is composed of 3 different elements - brand marks, branding & brand.
Brand Marks (noun): These are all the things that are used to distinguish your product from someone else's: the logo, the name, the colours, jingles, shapes, etc. (ie. things that a person detects with their physical senses like sight, sound, feel, smell & hearing).
Branding (verb): Is designing & using Brand Marks in conjunction with other elements (such as uniforms & merchandise) to produce a desired effect when a person sees them.
Brand (noun): This refers to anything & everything that a person thinks of or senses, when they see a Brand Mark. It is the thoughts, feelings & reactions that arise in response to their exposure to a Brand Mark.
The Brand Marks are the stimulus. Branding is the process of adjusting & controlling the stimulus to get a desired response. The Brand is the sensory response.
Important takeaway: You don't have full control over your brand.
Although you can lead consumers to see your company/product in a certain way using Brand Marks & Branding, the actual brand is what exists in the mind of each consumer. They will form an opinion about your brand based on anything & everything they associate with it.
Because marketing is about moulding the mental image a customer creates for your brand, it's important to understand some basics about how the mind works.
New memories are stored in association to existing memories. You cannot retain a memory that has no association to anything else, it has to have something to attach to in order to continue to occupy a space in your brain. This means there are groups of memories in your head that are linked together & can trigger each other. These groups & links will be different depending on individual experiences, beliefs & views of the world.
Take Christmas for example. In the northern hemisphere even the mention of this holiday brings up memories of cold weather, roasts, warm drinks & snuggling up in front of the fire. However, the same event in the southern hemisphere sparks a group of memories that include barbeques, beaches, sun & seafood. The groups of memories that are linked to & associated with any product, service or event will depend on the circumstances in which it is presented to the consumer & the experiences that person has had or is having at the time of exposure.
Keep in mind that a lot of this marketing work is subtle : no single thing on it's own will work, it is the collection of small cues that come together to paint the big picture.
How to make your way into the memory bank
When a customer is making a decision, they turn to their memory before they turn to any other authority or source. This is why it's so important to be a part of their memory already. You have to have done the work before they get to that decision making stage.
But how are we going to get you into potential customers memory banks? By linking your brand to something else that already has a strong presence in their consciousness or memory. You are going to attach to something, nothing exists in isolation. This is why you should target a group of memories to attach to for maximum benefit & retention.
Just like high school, you want to get into the right clique - this will help to direct the mental links that people make involving your brand & eventually determine how others perceive your brand in general. There is always the risk of attaching yourself to a group that ends up with a bad rep which is why you have to be careful & considered when making these decisions.
You're not limited to one group. You can attach yourself to a whole variety of groups or categories. Think of hashtagging on instagram, you are not just going to write one & be done with it - you want to be related to multiple different things.
How you use tags online is not dissimilar to how memories are grouped & recalled in everyday life.
This is important because people use different groupings to search their memories for things at any given time. Eg. Someone searching for a place to buy dinner might search "something healthy", "something quick", "something salty", "italian" etc. Therefore if you were an Italian fast food restaurant you wouldn't just want to be in the "something quick" group, you would also want to be in the "Italian" group, the "something near me" group, the "cheap" group etc. You would use your marketing & advertising to ensure you appear in as many relevant groups as possible.
Keeping your spot in consumers minds
As time moves on from each encounter with a brand, buyer memories fade.
You need to refresh brand memory associations regularly. Everyone's had that moment when they've kicked themselves because they bought something & soon after remembered that there was a better version they should have bought but had forgotten it. You need constant refreshers to make a link or association strong.
Each time you refresh consumer memories you're presented to them in a different context & therefore create an association with a different group of memories. This adds to the number of links that can prompt someone to think of your brand.
The truth is, people know more about the brands they buy & tend to buy the brands they know. How do you become this 'known' brand? Simple. You expose consumers to your brand frequently, in multiple situations, to create many memories & associations that will increase their chances of thinking of your brand when a need arises.
How uniforms & merch can be used as a part of your marketing.
Now we're going to use the work you did earlier.
You have defined:
Your brand
Your ideal customer
Your ideal interaction with said customer
It's time to look at the info you have & come up with some tags, groupings & cues to associate with it.
You can then use these tags, groupings & associations to find the products & ways of communicating your brand that are most likely to create the desired associations.
An Example in Action :
Take, for example, an Ice cream shop. One might think that ice cream is just ice cream. But the way an ice cream shop chooses to market themselves can entirely change customer perception.
The Brand:
Ice cream retailer
Artisanal
Adventurous
Gourmet
Premium
Modern
Energetic
The ideal customer:
Financially well off
Status orientated
Adventurous
Foodie
Active Social Media User
Has FOMO (fear of missing out)
The ideal interaction :
Trying new & exciting flavours flavours each visit
Post pictures on social media, tag location & business, add multiple relevant hashtags (trusted marketing as it doesn't come from a business, it comes from an individual)
Buy take away tubs (can be shared with others)
Buy ice cream cakes (can be shared with others)
Recommend to friends
Tags/Groupings :
Premium
Creative
Modern
Gourmet
Artisanal
Destination
Must try
Unique
Possible products:
T-shirts - they could feature colourful, out there, eye catching branding or sleek minimalist branding. These can be used for both uniforms & merchandise.
Name badges for staff.
Branded bib aprons or unbranded waist aprons so as not to hide the t-shirt branding.
Bandanas - could be branded or just have a fun pattern. They can be used as an accessory or a make-shift hair net. These could be sold to reinforce branding via colours.
Branded caps. These can be used for uniform, merchandise or both.
Branded takeaway tubs.
Branded reusable ice cream cups.
Branded insulated cooler bags.
Branded sunscreen or SPF lip balm.
Branded phone grips.
Old Fashioned Ice Cream Shop
The Brand:
Ice cream retailer
Old fashioned
Family oriented
Customer service orientated
Dependable
Consistent
Cosy
Familiar
The ideal customer:
Local
Creatures of habit
Loyal
Friendly
Chatty
The ideal interaction:
Comes in regularly
Talks to you & cares about your business
Brings family & friends
Buys takeaway tubs
Tags/Groupings:
Traditional
Classic
Friendly
Local
Familiar
Possible products:
Button up shirt.
Bow tie.
Branded bib apron.
Name badges for staff.
Branded hats (caps, bucket hats, legionnaires etc.) for adults & kids as uniforms, merchandise or both.
Branded takeaway tubs.
Branded napkins.
Branded frisbee.
Branded sunscreen or SPF lip balm.
Branded insulated cooler bags.
Branded picnic blankets.
Notes on the above examples :
You'll notice that a lot of the 'possible products' can be used in both businesses. It is the method & size of the branding as well as the colours & icons used that will differentiate them.
As you can see there is no mention of the differences in the product they sell (ice cream) in this comparison - that's not what's important. In fact, these two shops could be selling the exact same product.
It is this difference in marketing (the way they are presenting themselves to the customer) that creates different perceptions, resulting in two very different customer bases.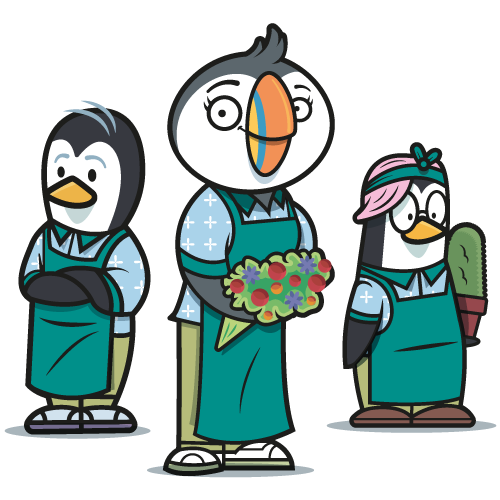 Next Steps:
You've now finished step 1 in our simple 3 step journey to create uniforms & merchandise that attracts customers. You understand the how & why of finding the look for your Brand. Well done you!
The next step is selecting the right products to achieve that look within your timeframe & budget, A.K.A. Step 2 : The Buying Process Explained (or I suppose you could skip ahead to Step 3 : Customise with Branding.)